The Poker Blueprint
"Super" Easy Cash Games & $1100 Bonus!
UB.com is the 3rd largest US poker site and has some of the softest cash games and GTD MTTs. Sign up now for a massive bonus!


The Poker Blueprint: Advanced Strategies for Crushing Micro & Small Stakes NL by Aaron Davis and Tri Nguyen responds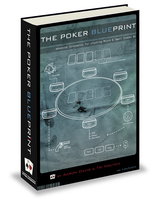 Price: eBook: $47. Buy It Now.
The Poker Blueprint is a great book for beginners. It is an advanced-beginner type ebook, and covers all of the fundamentals up to NL200. The Poker Blueprint has 172 pages in total.
Who is this eBook for? This book is specifically designed for low stakes No Limit Holdem players looking to move up from $0.10/$0.25 up to $1/$2 stakes. It covers a comprehensive range of concepts in detail including street by street action, how to develop your post-flop play based on opponent's antics (floating, 3betting, double-barrelling, check-raising), estimating equity, calculating combo ranges and there are some miscellaneous charts, topics and quizzes towards the end. Overall it will teach you how to make $30k+ per year in online poker and teaches you how to move up from the micro stakes.
The Poker Blueprint Review
This is one of my favourite books and was very interesting to read. It opens with an excellent introduction, "Play to Learn", which rather than outlines differences between winning and losing players instead focuses on the void between learners and grinders. The book steadily works you through key concepts associated with the math of poker, including estimating hand combinations, calling equity and determining expected value.
The 2nd chapter teaches you the basics of table selection, judging stack sizes, player types, nits. The authors provide a typical "bad" player's HUD stats such as VPIP/PFR.
Next, Davis and Nguyen advocate being aggressive and moving up the stakes quickly. They outline the advantages of moving up stakes whilst you're young and how the profits: skill ratio is disproportional which makes taking risks more profitable. They assert their own version of bankroll management to help you move from NL2 up to NL100 faster, which helps the majority of players stuck at this level and something I wish I had even come across sooner.
The core of the book takes you through street-by-street action and this was by far the most interesting part. Starting with pre-flop play, the authors take you through the various positions around the table (Blinds, UTG, CO) and how these should impact your game. The post-flop action addresses situations to cbet, float, double-barrel or check-raise boards. Davis and Nyugen teach you how to adjust to different players and introduces you into an agressive and extremely positionally-aware game plan, which discusses concepts like iso-raising, overlimping, squeezing and blind stealing. Using case studies and hand scenarios using Poker Stove, they drill home the points and let you match loose-aggressive players at te higher stakes.
Titled "Time to Play Poker", post-flop action is taught with respect to your opponent's attribute and villain's range. Judging villain's previous action and position on the board, the Poker Blueprint discusses 3betting, the importance of polarising your hand range and what happens when you're pot-committed in 3bet pots.
Asides from the meaty substance, the Poker Blueprint contains a number of pre-flop and range graphs and charts that can be applied to games easily. Overall, I think this summarises what low stakes players are missing from their game and the gaps you need to fill to move up to the NL100 and NL200. This book is wonderfully written and is fully commended by myself and other pro NL200 players.
Go to DailyVariance.com to buy the Poker Blueprint