The PLO Book
"Super" Easy Cash Games & $1100 Bonus!
UB.com is the 3rd largest US poker site and has some of the softest cash games and GTD MTTs. Sign up now for a massive bonus!


The Pot-Limit Omaha Book: Transitioning from NLH to PLO by Tri "Slow Habit" Nguyen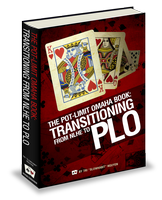 e-Book Price: $197. Buy Now
Who is this for? The PLO Book is written for small-mid stakes NLH players looking to make the transition to PLO for the $0.25/$0.50 up to $1/$2 stakes. It is one of the best PLO books on the market and teaches both new and experienced PLO players the fundamentals for playing PLO50 up to PLO200, as well as how to exploit both the fish and regulars at the tables. The PLO book teaches hand selection, relative hand strengths in different situations, profitable bluffing spots and advanced tactics for exploiting ABC regulars.
The Pot-Limit Omaha Book Review
You should be aware that PLO is increasingly becoming one of the most popular games in online poker and it may even overtake NLH sometime soon. Everyone knows that the standard No Limit Holdem games are getting harder, hence why so many of today's online pros prefer PLO e.g. Ivey, Dwan, Patrik Antonius etc… Because of the number of fish and new players in PLO, it makes it a much more profitable game and it is definitely in your interest to not only learn it, but also be able to exploit the regular PLO fish – this is exactly where the Poker Limit Omaha Book comes in handy.
To put it short, the PLO book is designed for NLH players who are seeking a new challenge. It focuses on teaching PLO short-handed $50-$600 buy-in games that have recently become popular online.
The PLO Book begins as you would expect with an introduction to pre-flop play including hand-selection, opening from late position, limping and 3 and 4bets. Nguyen makes analogies and comparisons with NLH pre-flop play to make things easier, hence why the book is called "Transitioning from NLH to PLO." The next part of the book covers key concepts such as position, equity, value-betting and bluffing.
Mistakes made by NLH in PLO are outlined such as playing too loosely from the blinds; all in the name of exploiting such players and finding cracks in their game. In addition to theological frameworks and theory, Nguyen walks you through step by step situations for the flop, turn and river play. Furthermore, the book teaches a deeper theory of skill and theories in the low to middle stakes PLO games online. It how most NLH players are still relatively unfamiliar with key concepts such as backdoor draws, flop texture, continuation betting. By reading and understanding these discussions, you're able to get a huge edge against those newish PLO opponents and even the savvier ones too.
The PLO Quiz is a great part of the book, it provides a number of opportunities to test your knowledge, and also to see what Nguyen has to say about those spots. Even as an experienced low stakes PLO player I found after reading a few hand histories I was seeing lines that hadn't come to me before e.g. opportunities to squeeze value from less competent PLO players.
In conclusion, I'd say this is a fantastic read for NLH players looking to make a switch to 6-max PLO cash games. As well as a great PLO book for beginners, it's also suited for existing PLO players looking for an extra edge against regulars.
Go to DailyVariance.com to buy the PLO Book