Sit n Go Pro
"Super" Easy Cash Games & $1100 Bonus!
UB.com is the 3rd largest US poker site and has some of the softest cash games and GTD MTTs. Sign up now for a massive bonus!


Sit N Go Pro by Johnny Rothman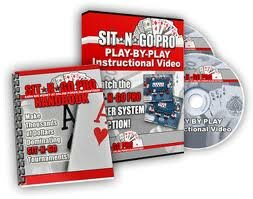 eBook Price: $47. Buy It Now.
Who is it for? The SNG Pro eBook is recommended for beginners and micro stakes SNG players looking to beat the game. The Sit N Go Pro package includes everything to turn you into profitable player in low-mid stakes SNG games. It includes a 41-page PDF handbook that covers the basic theory/concepts, 1.20 hours of video footage, starting hand charts and a 15 minute MP3 interview with Rothman. It focuses only on SNGS and doesn't contain any strategy for NLH cash games or MTTs.
Sit N Go Pro Review
Rothman's Sit N Go Pro system is well known in poker forums and is one of the better eBooks for learning how to play sit and goes profitably.
The first part of this eBook contains a 41-page PDF handbook which teaches all the introductory concepts of SNGs (most of which many players should already be familiar with). But, while the first half of the book covers only the basics, once you dwelve into the second half Rothman begins discussing more difficult situations and advanced concepts such as positional play, exposing short stacks out of position, tournament equity, ICM models and outplaying opponents on different street or defending against LAGs. A lot of this should already register to experienced players, but it's must read if you're a beginner.
Effectively, the SNG Pro system contains a full-proof plan for playing SNGs at all stakes – and while it claims to help you make $1400 in one night, in truth you should be able to become very profitable reg with a decent ROI. A starting hands/position chart is included which outlines how to play hole cards in different positions at the table. This is a great reference for beginners and worth the time looking at especially since it avoids getting into nasty pots and leaking chips. After reading the book alone, you'll be able to beat the small stakes SNGs up to $10 and understand most of the theory applicable to mid-stakes SNGs.
If you already knew most of the SNG ebook material, then the instructional videos are where SNG Go Pro makes its money. Users get to watch 4 extensive videos of Rothman playing short-handed mid-stakes sit and goes as he explains every move in detail without any gaps or editing in play. He provides tips for analysing opponents' tendencies, how to extract maximum value on streets, check-raising and even navigating around difficult 3bet situations. The analysis of opponents is exquisite, and understanding Rothman's line of thinking and how to plan ahead is pure brilliance. The videos teach many advanced concepts, for example the 2nd 40 minute long video shows how to play SNGs from beginning till end. The 3rd video teaches you how to avoid the most common mistakes and how to exploit the mistakes that many SNG players make, which again is top notch stuff because this is the strategy that will earn you more money than you currently do now. Lastly, there's a short 15 minute MP3 interview with Rothman who answers a series of questions on SNG poker strategy.
In conclusion, there is nothing ground-breaking in this SNG Pro System but for just a measly $47 I definitely recommend buying this if you're interested in learning a full-proof system for beating SNGs and exploiting low stakes regs. You have literally nothing to lose and the starting hand charts and videos together are worth more than this without even getting the 40 page ebook itself.
Go to Buy the SNG Pro eBook Now