Best Poker eBooks
I've taken the liberty of listing the best poker ebooks that will help you dash up the cash game tables or transition to PLO/SNGs below. Many of them, such as the NL Workbook, are written by high stakes pros and poker training site instructors; while some are just written by successful mid-stakes players making $100,000+. The difference between a poker eBook and regular poker book is that you can download these to your desktop and open them up in a program like PDF or Word.
I've outlined the best poker eBooks for driving you up the stakes and explaining advanced strategy/exploiting regs below.
Top 6 Poker eBooks: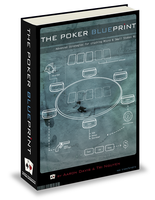 #1 – The Poker Blueprint: Advanced Strategies for Crushing Micro & Small Stakes NL by Aaron Davis and Tri Nguyen
This is without doubt one of the best poker eBooks that money can buy. Written by two well known high stakes online pros who are highly regarded at TwoPlusTwo, the Poker Blueprint covers all the groundwork for you move up from the small stakes up to NL200 aka $1/$2. The core of this book teaches how to exploit different positions, extract value from regs, when to check-raise/float opponents based on their tendencies, and there some combinatronics, charts, graphs and quizzes towards the end. Read the Poker Blueprint Review.
#2 – The No-Limit Hold'em Workbook: Exploiting Regulars by Tri "SlowHabit" Nguyen
The same author of The Poker Blueprint brings you a book that is designed to push you even further up the racetrack to the high stakes tables. Based on short-handed $3/$6 cash table situations, the NL Workbook teaches you how to exploit the regs, balance your hand ranging skills and bluff for value. This is a must read for mid-stakes grinders and gives away so many awesome tips. Read the NL Workbook Review.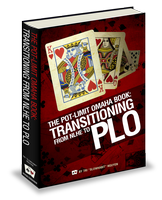 #3 – The Pot-Limit Omaha Book: Transitioning from NLH to PLO by Tri "Slow Habit" Nguyen
This is a must read book for new PLO players and low stakes PLO regs looking for secrets to move up the stakes to $1/$2. The book teaches all the basics for PLO such as hand selection, starting hand charts, equity on different boards, and how to exploit the PLO regs and fish from PLO25 – PLO200. The book contains lots of quizzes and accounts of how you should play against different tyeps of opponents. Overall if you're looking to improve your PLO games than this book covers the basics and turns you into a profitable player up to the PLO $1/$2 games. Read the PLO Book review.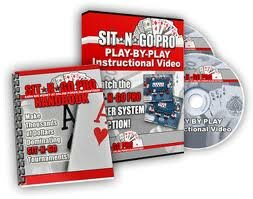 #4 – Sit N Go Pro by Johnny Rothman
The best online resource for beating low to mid-stakes SNGs, Rothmans SNG Pro is a well worth the $40 price. Along with a 40-page eBook which introduces the basic elements of SNG play (including starting hands, positions, exploiting different player types), users also get to view 1.2 hours of watching Rothman in mid-stakes short-handed SNG action. The videos are fantastic for learning how to exploit SNG regs and extract the most value; and there are a few hand charts and graphs included too. Overall, this is the perfect kit to get going in the mid-stakes SNGs and perfect for players wanting to climb up a level. Read the SNG Pro Review.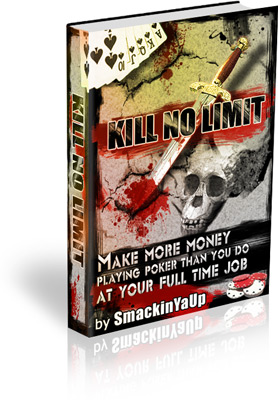 #5 Kill No Limit by SmackinYup
This is well-written poker Ebook that is first-class for new players. Written by SmackinYup, a mid-stakes pro who makes over $120,000 a year (and who is also a friend of mine), the Kill No Limit eBook is perfect for new/micro stakes players and only costs $77. It includes a brilliant 50-page eBook which teaches you NL basics such as table position, starting hands, cbetting, bluffing, when to check-raise, combating different types of opponents etc..You'll get to download over 2.5 hrs of sessions from NL 100 up to NL600 and watch SmackinYup decimate the $100/$200 cash tables at PokerStars. Users are also introduced to poker HUD software and tracking tools like Holdem Manager and Poker Stove which you can learn more about at http://www.pokerhud.org. Read the full Kill No Limit Review.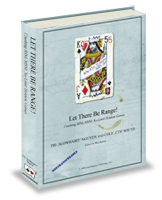 #5 – Let There Be Range: Crushing SSNL/MSNL No-Limit Hold'em Games, authors Tri "SlowHabit" Nguyen and Cole "CTS" South
LTBR is an advanced NLH for serious players and has a high asking price at $947. Nonetheless, it details exactly how to exploit regs in different boards or situations and has the aim of turning you up to a NL200 pro. The 80 page ebook provides stimulating information for narrowing hand ranges using combinatronics, calculating equity/fold equity in hands, plus it provides detailed case studies for playing the flop, turn and river in different situations. Overall, LTBR is written and marketed towards the mid-high stakes end of the spectrum but dishes out a ton of good advice for beating mid-stakes regs. Read the full Let There Be Range Review.