Let There Be Range
"Super" Easy Cash Games & $1100 Bonus!
UB.com is the 3rd largest US poker site and has some of the softest cash games and GTD MTTs. Sign up now for a massive bonus!


Let There Be Range: Crushing SSNL/MSNL No-Limit Hold'em Games, authors Tri "SlowHabit" Nguyen and Cole "CTS" South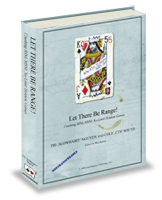 Price: $947 for the eBook. Buy It Now
Who is this for? Let There Be Range is a ground-breaking poker eBook intended for serious players who are looking to develop their NLH cash game strategy up to NL100. Being one of the most expensive poker eBooks on the internet, LTBR has its fair share of critics. But, it is worthwhile if you're a mid-high stakes and want to move up a level or two. Co-authored by Cole "CTS" (who is one of the highest rated Cardrunners instructors), this 80 page book teaches a lot of theory and anecdotal hand analysis in detail including hand range, pot equity, fold equity, and how to use hand combinations to narrow opponents' hand ranges.
In short, LTBR leaves you with several theories and concepts on how to make better decisions for each stage of the hand, including pre-flop, flop, turn and river.
Let There Be Range Review:
Before we look into the book, I think it's first commenting on the price. At over $800 LTBR is intended for the higher end of the market, and since Nguyen and Cole both play and teach high stakes strategy; it sort of makes sense to market the price accordingly. Is the book worth it? Yes. For the right sort of audience i.e. those who can afford it and will study it and apply the concepts, it will help prepare you for the higher stakes and may even push you up to levels to NL200.
Now, down to the gritty stuff. The poker eBook is 80 pages long and dwelves into many topics and provides structural theory and anecdotes for each street, pre-flop, flop, turn, river etc…In many ways LTBR is more a series of lectures and case by case scenarios for every possible situation e.g. playing different opponents, hands or flop textures. A lot of the theory for is applied to range-based math and combinatronics. This mostly means the optimal ways to play against opponents in and out of position, what kinds of flop textures, polarising and exploitability etc…
The best thing about this book is that rather than just provide short generalisations or theory, everything is applied and taught in specific high stakes cash game situations and anecdotes. Polarisation is actually explained in real games as opposed to just theory. Again, rather than explain theories it works through them and articulates any problems or failed attempts to implement them, thus it gives a multi-tiered "lectured" approach to poker rather than one-way instruction.
In terms of how it reads, Let There Be Range has a very tight focus. The e-book has been criticized for small grammatical mistakes argued by some to be unprofessional, but it still teaches high stakes poker and achieves its intended goal. The book does a good job presenting a mix of information through logic, empirical and case study examples. In conclusion, I'd definitely recommend getting your hands on this book if you can, but I think it's obvious that if you can't afford it then it's not suited to you. It's also not a book you can just pick-up and go with like the Poker Blueprint; you have to take your time with this and learn and follow through the processes and combinatronics with Poker Stove etc to get the most out of it.
Go to DailyVariance.com to buy Let There Be Range