Poker eBook Reviews & Listings!
Welcome to the PokereBookShop.com, the best resource on the internet for poker ebooks and reviews!
The PokereBookShop.com project was set up in order to provide poker players reviews of the best poker ebooks on the internet. In the last few years poker ebooks have helped push thousands of players up the stakes to the NL100+ games – or go on to crush the PLO/MTT high stakes tables.
At the PokereBookShop, we have ensured that all of the poker ebooks listed on our site have solid content. All of the Poker eBooks that are presented here are written by high stakes players that are highly rated at 2+2 and with a good pedigree of profits. You will find a range of poker ebooks for both beginners and advanced players. A short description of who each eBook is recommended for and a general review is provided.
View Our Pages:
Best Selling Poker eBook: The Poker BluePrint (Only $47)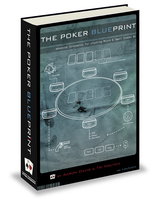 The Poker Blueprint has received very positive reviews from the 2+2 and PocketFives communities. It teaches everything you need to know to succeed in $0.50/$1, including floating, 3betting, double-barrelling, check-raising, combo ranges and estimating equity in pots – and there are a number of charts and useful resources.
If you're looking for a poker ebook to help you move up or combat opponents in micro-stakes games at PokerStars or Full Tilt Poker than I definately recommend reading this one. It even has an entire chapter dedicated to helping you move up the stakes faster. Visit the Poker Blueprint Review.
How Much Can Poker eBooks Help Your Game?
Many poker ebooks will transform your game and teach you to play high stakes $3/$6 cash games or at least $1/$2 at the bare minimum. Our top selling ebooks, The NL Workbook: Exploiting Regulars and the Poker Blueprint, are written by two well known high stakes poker pros: Tri Nguyen and Aaron Davis. Their books cover a phenomonal amount of theory and provide numerous hand examples and anecdotes for NL600 short-handed cash games.
If you'd like specific examples of how these e-books help your game, they cover all the street action with a meaty section on post-flop play (good times to float, check-raise, how to play against different opponents and extract value on the river, combinatorics, reading inbetween the lines).
Many mid-stakes players have read these books and learnt a lot from them. The two poker e-books are designed to help players stuck in the low stakes $0.25/$0.50 cash games, which I can testify requires a big step to break out of. Many poker players won't have difficulty playing profitably up to NL100 but breaking past these stakes requires a whole overload in your game plan. You need to be more agressive, navigate yourself around 3bet pots and action, be capable of exploiting regulars. At these levels you can play poker professionally and easily make over $30,000 per year, which means that it's a big step up from the amateur NL25 games.
Can I Get Free Poker eBooks?
The majority of poker ebooks this site are not free, most of them cost between $50 up to $200. The problem with free ones is that they are not normally worth reading and won't help your game that much, or to the level that you expected. You can pretty much work out that if someones writing free poker ebooks then they won't be great quality.
The best poker ebooks on the internet cost money, and most of them are worth every cent. The Poker Blueprint, for example, written by Tri "SlowHabit" Nguyen – one of poker's greatest online pros has so much to teach such as positional skills at high stakes games and it can turn you into a decent NL100 or NL200 player. This 80+ page book is written by a professional and also comes in hardback version, so ofcourse it's not going to be free. If you want a free e-book, then you're only going to get some cheap spurned out content that teaches the very basics of No Limit Texas Holdem such as "what is a 3bet" and what are "implied odds." Ofcourse, there is nothing wrong with free e-books to help beginners, they are very accessible and I'm not degrading something that is free. I'm getting the message across tha if you're really looking to get the most out of poker and move up the levels to mid-high stakes games, then you should be willing to spend money on a profesional poker ebook.
If you're a new poker player looking for a poker bonus than you should check out PokerBonus.org. This is one of the most authoritative sites on the internet for finding the best poker bonuses and deals.